Attending a horse race is not only an exciting event but also a perfect opportunity to showcase your sense of style. However, it's important to be aware of the appropriate dress code for the occasion. Each event can have differing expectations for attire – considering factors such as the specific race, its prestige, and the event's traditions. Understanding racing events and adhering to dressing etiquette is crucial in order to confidently put together a perfect outfit for the day at the races.
One should pay attention to details such as the perfect dress or suit, appropriate accessories, and comfortable yet stylish footwear. Men and women have varying fashion choices to consider when dressing for a horse race, but it's necessary to strike a balance between elegance and practicality. Taking into account the event's atmosphere and venue is also crucial in order to plan the final touches and create a harmonious ensemble that enhances the overall experience.
Key Takeaways
Be aware of the appropriate dress code for the horse racing event you're attending
Seek a balance between elegance, practicality, and comfort when choosing attire
Consider the venue and atmosphere in order to plan the final touches on your outfit
Understanding the Racing Event
Horse racing is a popular sport that combines tradition, excitement, and glamour. Racing events such as the Kentucky Derby, Royal Ascot, Belmont Stakes, and Melbourne Cup showcase the best of horse racing while emphasizing the unique culture that surrounds the sport. Attendees often dress up to show off their racing fashion, making these events a social spectacle as well as a sporting one.
Each racing event has its own style and atmosphere. For example, the Triple Crown races which include the Kentucky Derby, the Preakness Stakes, and the Belmont Stakes, are known for their rich history and prestigious titles. Churchill Downs, home to the Kentucky Derby, sets the stage for an unparalleled celebration of race day culture. Similarly, Royal Ascot is a week-long racing festival that has been a fixture of British high society since the early 18th century.
Venues for these racing events are often grand and filled with history. The unique settings contribute to the experience and inform the dress code for attendees. For example, the dress code for the Royal Enclosure at the Royal Ascot is particularly strict, requiring top hats and formal attire for men, and hats with a specific base size or smaller fascinators for women.
Horse racing culture extends beyond the race day itself, with many events featuring live music, gourmet food, and other attractions to entertain guests and give them a day to remember. Each horse race has its own character and charm, providing different opportunities for attendees to showcase their racing fashion and personal style.
When dressing for a horse racing event, understanding the specific racing event, its history, venue, and cultural expectations is key. With an appreciation for the traditions and styles unique to each race, attendees can choose attire that is both fashionable and respectful of the event's heritage.
Dressing Etiquette for a Horse Race
Attending a horse race is not just about witnessing the thrilling competition; it is also about embracing the event's unique style and sophistication. The dress code plays a significant role in setting the tone and ambiance. It is crucial for attendees to adhere to these fashion rules and present themselves with elegance and class.
One aspect of dressing etiquette for a horse race is understanding that each event may have its specific dress code requirements. For instance, the prestigious Kentucky Derby encourages women to wear large, extravagant hats while men are expected to don bow ties and seersucker suits. It is wise to research the specific race's dress code before selecting your outfit.
Women's attire for a horse race typically includes dresses, skirts, or tailored pants paired with elegant blouses. Classic silhouettes, like fit-and-flare or A-line dresses, convey a sense of sophistication and grace. When choosing colors and patterns, opt for bold jewel tones, chic neutrals, or stylish prints to make a statement. Accessories such as hats, fascinators, and statement jewelry can add a touch of glamour and complete the look.
For men, light-colored suits, dress pants, and crisp dress shirts create a polished and refined appearance. Ties or bow ties can provide a pop of color and showcase your personal style. In casual horse racing settings, men can opt for a smart-casual ensemble, pairing a sports coat or blazer with trousers or chinos.
When selecting footwear, both men and women should prioritize comfort while maintaining a fashionable appearance. Heeled sandals or wedges are popular choices for women, as they provide a comfortable option without compromising on style. Men can choose loafers or dress shoes, depending on the outfit and dress code.
The key to dressing for a horse race is understanding the event's specific dress code, embracing the sophisticated atmosphere, and showcasing your unique style through tasteful wardrobe choices. By adhering to these etiquette guidelines, you will not only feel confident and stylish but also contribute to the elegance and ambiance of the occasion.
Picking the Perfect Dress
When attending a horse race, choosing the right dress makes a statement and adds confidence. Opting for a glam look can elevate the entire racing experience, and a smart dress is key to achieving that refined appearance. Keep in mind the following tips when selecting the perfect dress for a day at the races.
First and foremost, it's important to consider the color palette. Light and bright colors, such as white or pastel hues, are ideal for daytime events, as they exude a sense of freshness and elegance. These shades are versatile, allowing for easy matching with accessories and outerwear.
Another popular choice is floral prints, which are perfect for creating a stylish and feminine appearance. Florals can be subtle or bold, depending on the pattern and colors. However, be mindful not to overwhelm the outfit with large prints or excessive floral elements.
In terms of hemline, a knee-length dress or slightly above the knee is preferred. This length strikes the perfect balance between sophistication and comfort while still allowing for movement and freedom during the race day activities. Avoid extremely short or revealing hemlines, as they may not be appropriate for the event.
To enhance the overall look, consider incorporating some bold elements and accessories. This could include statement jewelry, a wide-brimmed hat, or a chic clutch. These additions can amplify the glam factor and tie the entire ensemble together.
Selecting the perfect dress for a horse race involves finding the right balance between style, color, and comfort. By choosing a smart dress in pastel hues or with floral prints, and paying attention to the hemline and accessories, one can achieve an effortlessly stylish and confident appearance at the races.
Choosing the Right Men's Attire
When attending a horse race, one must dress appropriately, keeping in mind the often sophisticated atmosphere. The right attire for men usually includes a mix of classic and modern elements, ensuring a polished yet comfortable look.
A suit is often the foundation of a man's horse racing ensemble. Opt for a well-fitted suit in a neutral color, like black or navy, to create a versatile base for your outfit. If the event leans towards a more casual dress code, considering a blazer and slacks might be an apt choice.
Pairing the suit with a crisp collared shirt adds an air of elegance. A button-down shirt in a solid color or subtle pattern, such as stripes or plaid, works well to complement the look. Keep the tone neutral to maintain a sophisticated appearance.
Ties are an accessory that adds a touch of personality to the ensemble. Choose from a range of colors, patterns, and materials to find a tie that reflects your unique style. However, be mindful not to choose overly bold or flashy designs that clash with the event's atmosphere.
When it comes to pants, selecting a well-fitted pair of slacks or suit pants helps to create a seamless outfit. Make sure the pants match or complement the color of your suit or blazer, maintaining a cohesive look.
If the dress code calls for it, consider wearing a morning suit combining a tailcoat, waistcoat, and striped trousers for more traditional horse racing events. A lighter material like seersucker can be chosen for warmer weather festivities.
A tailored overcoat may be necessary depending on the weather. An overcoat in a coordinated color can enhance the appearance while providing warmth and protection against the elements.
When dressing for a horse race, strive for a balance between formality and comfort, keeping in mind the event's specific dress code and your personal style preferences. The key is to look polished and sophisticated while feeling at ease throughout the day.
Top Picks for Women's Shoes
When attending a horse race, remember to choose the right footwear for both comfort and style. Horse races are often all-day events, meaning it is important to find a balance between a fashionable look and a comfortable fit. Here are some top picks for women's shoes.
Heels are a classic choice for adding elegance to any outfit. For a horse race, opt for a lower, chunkier heel or a kitten heel that provides stability. Avoid stiletto heels, as they tend to sink into the grass and may make walking difficult.
Wedges are another great option for those who want the height of a heel without sacrificing comfort. With a thicker, more supportive sole, wedges evenly distribute your weight, providing better balance and reducing foot fatigue. Choose a wedge style with an ankle strap for added support while walking on uneven terrain.
Flats are perfect for long days at casual events. To maintain a stylish appearance, opt for flats with embellishments or unique design elements. Metallic or bejeweled flats will add a touch of glamour to your ensemble without sacrificing comfort.
Espadrilles are a welcome alternative to traditional heels and flats. With a woven, rope-like sole and cozy upper, espadrilles are great for outdoor events like horse races. They come in various styles, from flat to wedge, making it easy to find the perfect match for your outfit.
Remember to consider the dress code of the event when selecting your footwear. While some horse races may call for more formal attire, others may be more casual. Regardless of the dress code, opting for one of these stylish shoe options will keep you feeling both fashionable and comfortable at your next horse race event.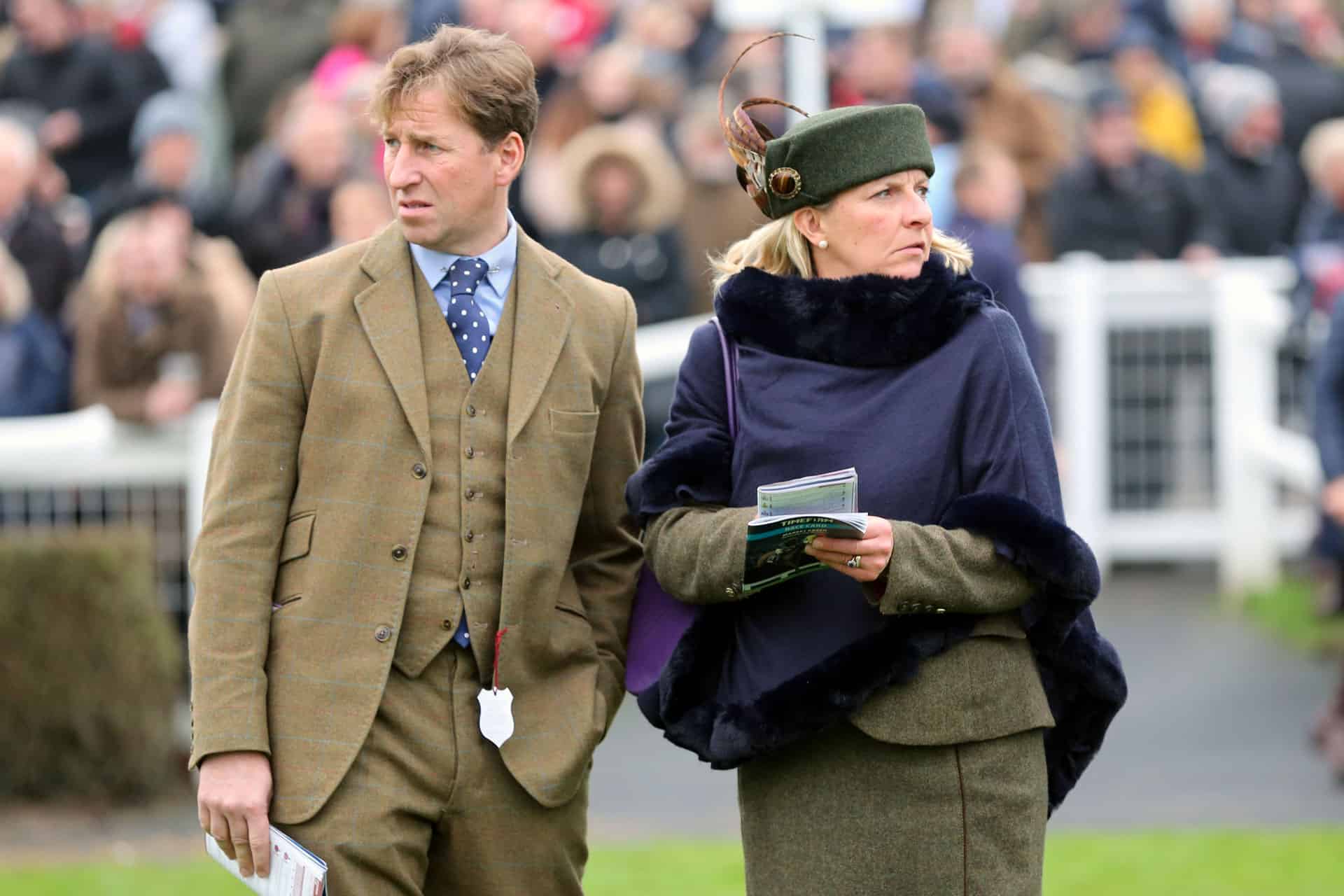 Men's Accessories to Consider
When attending a horse race, men's accessories play a significant role in elevating the appearance and showcasing a sophisticated sense of style. A well-chosen set of accessories can complement any outfit, from a classic suit to a more casual ensemble. Let's explore some key accessories for men to consider while dressing for a horse race.
Belt
First and foremost, a stylish belt serves the dual purpose of holding up trousers while simultaneously enhancing the overall outfit. Opt for a high-quality leather belt in black or brown, matching it with the color of your shoes. A polished buckle can add an elegant touch without overpowering the rest of the outfit.
Bow tie
A bow tie is a dapper and polished choice for accessorizing a suit or blazer. They come in various materials, designs, and patterns, so there's something to suit every taste. For a traditional look, you can't go wrong with solid colors like black, navy, or burgundy. Alternatively, you can make a statement with patterned or textured bow ties, such as polka dots or paisley.
Socks
While socks may not be the most prominent accessory, a thoughtfully chosen pair can elevate your race day style. Opt for quality materials and avoid unsightly holes or fraying. When coordinating with the rest of your outfit, choose either a subtle pattern or a solid color that complements your trousers and shoes.
Pocket square
A pocket square adds a touch of sophistication and style to any suit or blazer. It can be folded in various ways, allowing for both understated elegance and a playful pop of color. When selecting a pocket square, consider the color and pattern of your tie or bow tie but avoid being too matchy-matchy. The pocket square should complement, rather than replicate, your choice of neckwear.
Cufflinks
Cufflinks are another stylish addition that can bring a refined touch to your race-day attire. Opt for simple and elegant designs in silver or gold, which are versatile enough to coordinate with various outfits. You can also consider cufflinks featuring horse-themed motifs as a subtle nod to the occasion.
Each of these accessories can significantly enhance the style and appearance of a man's outfit for a horse race event. Remember that the key is to choose accessories that complement rather than overshadow the main outfit. With the right combination, you'll exude confidence, knowledge, and sophistication.
Women's Essential Accessories
When attending a horse race, women should choose the right accessories to complement their outfits and ensure they look fabulous for the occasion. Some of the key accessories include hats, fascinators, headpieces, and handbags.
Hats and Fascinators have become synonymous with horse racing events, adding a touch of sophistication and elegance to any outfit. Hats can range from wide-brimmed designs for a classic look, to more modern styles with unique shapes and embellishments. Fascinators, on the other hand, are smaller and often feature intricate details such as feathers, flowers, or beads. They are typically attached to a headband or a comb, making them a more lightweight and comfortable option. Both hats and fascinators can be found in various colors and styles, so it's crucial to select one that suits your attire and overall look for the event.
Headpieces and Headgear are other popular choices for women attending horse racing events. These can encompass a wide range of designs, from simple hair clips and combs to elaborate tiaras or crowns. Depending on your personal style and the dress code of the event, a headpiece can be a subtle addition or a statement-making accessory. Don't be afraid to experiment with different styles and materials, such as beaded, metallic, or floral headpieces, to find the perfect match for your outfit.
Handbags play both a functional and fashionable role at horse racing events. Apart from carrying your items, your handbag should also complement your outfit and accessories. Clutch bags or small handbags with delicate straps are the preferred choices for these occasions. Keep in mind the color and material of your handbag to match or complement your dress, hat, and/or fascinator.
A touch of bling in the form of jewelry can tie your entire look together. Opt for understated pieces such as simple earrings, bracelets, or necklaces, allowing your hat or fascinator to take the spotlight. Balance is key when it comes to accessorizing for a horse race, so avoid overdoing it with too many statement pieces.
The right accessories can elevate your horse racing ensemble, making you stand out in the crowd. By considering the perfect hat or fascinator, suitable headgear and handbag, and just the right amount of bling, you will be ready to enjoy a day at the races in style.
Final Touches for Your Outfit
When attending a horse race, the final touches are crucial in completing your outfit. Accessories can make or break your ensemble, so choose them wisely. Consider selecting items that complement your look without overpowering it. Here are some to consider:
A stylish pair of sunglasses is a must-have, as outdoor events can be bright and sunny. Choose a pair that suits your face shape and matches the tone of your outfit. It's always wise to have an umbrella on hand, as the weather can be unpredictable. Opt for a sleek, compact design that can easily fit into a purse or bag.
Incorporating jewelry can add an elegant touch to your ensemble. Keep it minimal and sophisticated with a statement necklace or a pair of dazzling earrings. Remember, less is more when it comes to accessorizing for a horse race.
When it's time to dress up, makeup adds the finishing touches to your look. Keep your makeup subtle and neutral, focusing on enhancing your natural beauty. A light layer of foundation provides an even complexion, followed by a touch of blush or bronzer for warmth. Choose a lipstick shade that complements your outfit, whether it's a bold red or a soft nude. Avoid heavy eye makeup – a simple swipe of mascara and liner should suffice.
Your hairstyle is just as crucial in pulling your outfit together. Utilize bobby pins to secure any loose strands or create an updo that showcases your attire. A well-tamed mane will help you look polished and poised for the day at the races.
Incorporate patterns into your outfit to add an element of flair. Whether it's a statement floral dress or a patterned tie, thoughtfully selected prints can bring life to your look. Be mindful of coordinating colors and patterns for a cohesive appearance.
Remember, the key to a successful horse race outfit lies in its final touches. By selecting the right accessories, makeup, and patterns with confidence and knowledge, you are sure to make a lasting impression.
Dressing for the Venue and Atmosphere
Attending a horse race can be an exciting and memorable experience, whether it's your first time or you're a seasoned racetrack enthusiast. For an enjoyable day, dress appropriately for the venue and atmosphere.
Casual attire is perfectly acceptable for most horse racing events, depending on your seat's location and the specific race day. For example, if you plan to spend the majority of your time in the grandstand, a casual outfit will suit you just fine. However, if your ticket grants you access to a more prestigious area, such as a VIP enclosure, a more upscale outfit may be required. When dressing for derby day, it's common for attendees to wear more sophisticated attire, including elegant dresses, suits, and elaborate hats.
For daytime events, keep in mind that the racetrack is often exposed to the elements, with limited shade available. As such, it's crucial to consider the weather forecast when selecting your outfit. On sunny days, lightweight clothing made from breathable fabrics can help keep you cool. Don't forget to apply sunscreen and consider wearing a fashionable hat or sunglasses for added protection.
Another aspect to consider is the type of footwear you choose. Horse races often take place on grassy surfaces and involve walking from one area to another. As a result, it's best to wear comfortable and sturdy shoes, such as stylish flats or low-heeled options. Avoid high heels or sandals with thin straps, as they might cause discomfort or even risk injury on uneven ground.
By dressing appropriately for the venue and atmosphere, you'll have a pleasant experience at the racetrack. Be mindful of the specific event, the time of day, and the weather conditions when selecting your attire and accessories.
Other Considerations
When attending a horse race, it's necessary to consider various aspects of your outfit to make sure you are dressed appropriately for the occasion. Consider the event, the time of year, and the specific dress code, if any. Planning your outfit in advance can save you last-minute stress caused by not meeting the dress standards for the event.
Horse racing events can range from casual daytime gatherings to formal events like the Kentucky Derby, where derby hats and upscale attire are the norm. For more formal occasions, choose an outfit that exudes sophistication and glitz. Women may opt for elegant jumpsuits or dresses, while men may choose well-tailored suits, fitted blazers, and dress pants. Bowties, fedoras, and other stylish accessories can help elevate your look and make a statement.
During the racing season, be mindful of the weather and choose attire accordingly. Layering is a wise approach, allowing you to adjust your outfit as needed. Consider incorporating a stylish yet practical jacket, scarf, or wrap that complements your ensemble.
When selecting accessories, consider the theme and specific requirements of certain racing events. For instance, some horse races support specific color schemes or encourage participants to wear brand ambassadors' attire. Be sure to research the event in advance to see if your chosen accessories align with the broader context.
Taking the time to plan your horse race outfit can make a significant difference in your enjoyment and adherence to the event's dress code. Carefully consider the event, season, and specific requirements, and confidently put together an ensemble that reflects your personal style and the event's atmosphere.
Related: Horse Sports
Frequently Asked Questions
What is the appropriate dress code for a fall horse race?
During fall horse races, attendees should opt for clothing that is both stylish and comfortable, keeping in mind the unpredictable weather. For women, it's common to wear a dress or skirt with tights, alongside a blazer or jacket. For men, a suit or sport coat with slacks would be appropriate attire.
Are hats necessary for attending a horse race?
Although hats are not required for attending a horse race, they are often seen as a staple accessory. The style and size of the hat can vary greatly, ranging from small fascinators to statement-making wide-brimmed hats. Wearing a hat can add a touch of elegance and complement your outfit.
What are some suitable outfit ideas for men during summer races?
For summer horse races, men may opt for a lightweight suit, linen pants, or dress shorts paired with a dress shirt. Accessories such as ties or bow ties can be worn to enhance the outfit. Footwear should be comfortable yet classy, with choices like loafers or dress shoes being appropriate.
What types of dresses and hats are popular for horse races?
Women attending horse races often choose dresses in bright colors or engaging patterns. The dress length can range from knee to mid-calf, with styles varying from classic A-line to more modern silhouettes. Popular hat choices include fascinators, pillbox hats, and wide-brimmed hats adorned with feathers, flowers, or bows.
How does the attire differ between casual and formal race events?
Casual horse racing events allow for more relaxed attire, such as sundresses or skirt and blouse combinations for women and a sports coat with slacks or chinos for men. Formal race events, on the other hand, require more elegant and sophisticated outfits, including cocktail dresses or dressier jumpsuits for women and tailored suits for men.
What are common winter outfit ideas for ladies attending horse races?
Winter horse races call for warm and stylish attire. Women may opt for a long-sleeved dress with tights or a skirt and blouse paired with a tailored coat. Coats made from materials such as wool or cashmere can provide both warmth and elegance. Accessorize with gloves, scarves, and a hat to complete the look.
Last Updated on November 11, 2023 by Nate Dewsbury